For those who aren't aware, Prime was released for purchase yesterday. Today we will be previewing the top five wide receiver draft prospects who fit the Bengals draft mold. We've listed the top five graded prospects projected to be taken in the first round below.
To see the full list of WR rankings and access the full draft guide (PDF), you can purchase Prime here for $5.13.
1. Corey Davis, WR(O), Western Michigan | Prime Grade: 4.50
Corey Davis edges out Mike Williams for the top spot here according to Prime. Davis is a great size fit and has excelled consistently while enrolled at Western Michigan. General manager Duke Tobin stated that for small school prospects to be considered by the Bengals, they need to dominate their level of competition. At WMU, Davis dominated as the centerpiece of a scheme that utilized multiple offense sets.
2. Mike Williams, WR(O), Clemson | Prime Grade: 4.44
Mike Williams comes in at #2 on Prime after position flexibility, durability and size became a factor. Williams missed around fourteen games while at Clemson with neck and hamstring injuries. At 218, Williams is slightly larger in weight than what the Bengals prefer. His age (22), scheme fit, and consistency are both assets that will have him in consideration if the Bengals go wide receiver in the first round. The Bengals met with Williams during the combine.
3. John Ross, WR(S), Washington | Prime Grade: 3.94
John Ross is an extremely explosive player, but according to Prime, he isn't that great of a match for the Bengals. His lack of size and durability hurts him the most. The Bengals tend to favor guys who measure in around  6'3, 200 pounds and can play on the outside and in the slot. Ross also missed around thirteen games in his college career with knee, labrum and hamstring injuries.
4. Chris Godwin, WR(O), Penn State| Prime Grade: 5.28
Godwin is projected to be drafted in the second round, but Prime believes he is an even better match than any of the projected first round receivers. He checks all the boxes in terms of size, production, and scheme.  Godwin also met with the Bengals during his Pro Day at Penn State.
5. Curtis Samuel, WR(S), Ohio State| Prime Grade: 4.22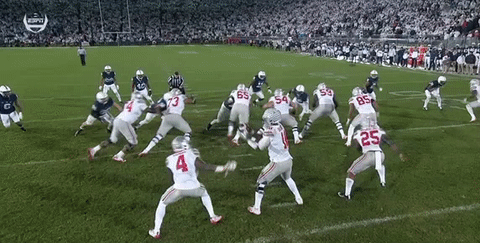 Samuel is similar in height to Ross, but he is heavier at 195 pounds. Two areas that could hurt him in this process with the Bengals are his age and average production. Samuel's position flexibility, however, will appeal to the Bengals. The ability to play running back and wide receiver increase Samuel's value. Samuel could prove to be the ultimate asset to the Bengals' offense without the cost of a first round pick.
Conclusion
Based on history, there is only a 7% chance that the Bengals could pick a wide receiver in the first round. Depending on how the draft shakes out, a wide receiver could end up being the best player available. If this were to happen, Davis and Williams are the likely candidates. Godwin and Samuel in the second round could prove to be formidable options as well on draft day.

Can't find product with specified id.
Please follow and like us: